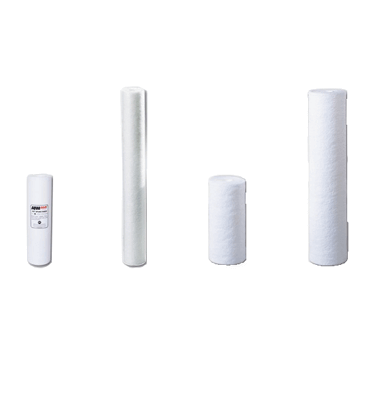 PP Spun Sediment Fiber Cartridges
Benefits
Protect downstream equipment and appliances
Removes dirt, rust, sand, grit, and other suspended solids from water
Graded density from outer to inner surfaces increases dirt holding capacity and prevents clogging to extend the filter life
Designed for Purity: Will not impart taste, odor or color to water being filtered
Polypropylene construction provides superior chemical resistance and is not prone to bacterial attack
Nominal 1, 5, 10, 25, 50 micron rating
Applications
Home Drinking Water
Point of Use (POU) RO Systems
Under the Sink/ Under the Counter RO Systems
Counter Top Filters
Commercial RO Pretreatment
Residential RO Pretreatment
Sediment Removal
Sand Removal
Dirt Removal
Rust Removal
Multi-Cartridge Filter Housings
Refrigerators
Ice Makers
Food and Beverage
Commercial
Industrial
Manufacturing
Sizes
10''x2.5''
20''x2.5
30''x2.5
40''x2.5
10''x4.5
20''4.5'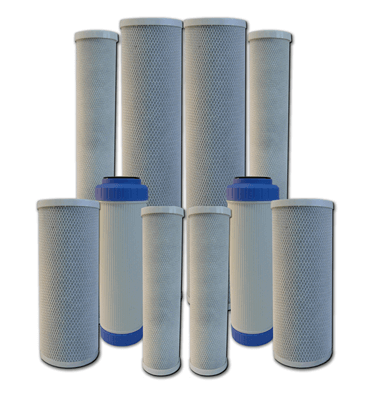 Carbon Block Cartridges
Benefits
Chlorine
Chlorine By-Products - Trihalomethanes (THMs): A Group of organic chemicals suspected of being carcinogenic.
Bad Tastes & Odors
Turbidity (Cloudy Water)
Herbicides, Pesticides, & Insecticides
Volatile Organic Chemicals (VOCs): Organic Chemicals that turn into vapor.
Fit most standard residential and commercial housings, for easy replacement into existing systems
Free of surfactants, binders and adhesives
Up-Flow design ensures maximum contact between the water and the carbon media for highly effective filtration.
Applications
Home Drinking Water
Point of Use (POU) RO Systems
Under the Sink/ Under the Counter RO Systems
Counter Top Filters
Whole-House Filtration
Point of Entry (POE) Filtration
Commercial RO Pretreatment
Residential RO Pretreatment
Residential RO Post Treatment
Refrigerators
Ice Makers
Chlorine Removal
Color Removal
Odor Removal
VOC Reduction
Sizes
10''x2.5''
20''x2.5
30''x2.5
40''x2.5
10''x4.5
20''4.5'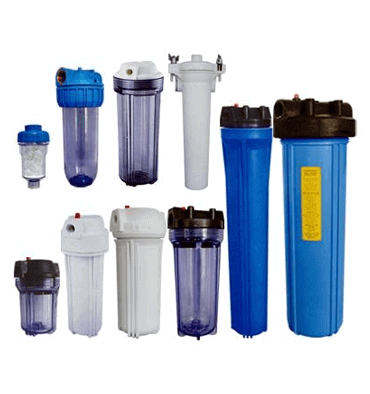 Filter Housings for Water Filters
Benefits
High quality polypropylene construction offers reliability and chemical resistance
Available in a variety of colors to create an attractive product
Available in a variety of in and out connection sizes to accommodate most line sizes
The standard design fits most standard filter cartridges in the industry
Applications
Home Drinking Water
Point of Use (POU) RO Systems
Under the Sink/ Under the Counter RO Systems
Whole-House Filtration
Point of Entry (POE) Filtration
Commercial RO Pretreatment
Residential RO Pretreatment
Residential RO Post Treatment
Refrigerators
Ice Makers
Factory
Swimming Pool
Restaurant
Farm Irrigation
Carbon Filters
Sediment Filters
Deionization Filters
Specialty Filters
Features
Sturdy Polypropylene Construction and EPDM O-Ring
Made from FDA Compliant Materials
High Maximum Operating Pressures:
Female NPT In/Out Connections
Pressure Relief Valve (included on select models as indicated above)
Sizes
10" and 20" Standard: 125psi (8.8 kg/cm2)
10" Big Blue: 100psi (7kg/cm2)
20" Big Blue: 90psi (6.3kg/cm2)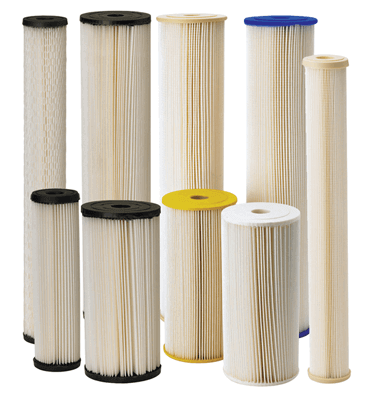 Pleated Sediment Filters
Benefits
Designed for general water filtration purposes
Economically priced
Nominal 20 micron rating
Higher temperature range (up to 145°F)
Special formulation of resin-impregnated cellulose and polyester fibers provides higher wet strength than regular cellulose cartridges
Color-coded end caps for easy identification of micron ratings: tan (1 micron), white (5 micron), blue (20 micron), yellow (50 micron)
Minimal unloading and media migration
Nominal 1, 5, 20, 50 micron rating
High media surface area for maximum production:
Standard 10" cartridge: 6 ft2
Standard 20" cartridge: 12 ft2
BB 10" cartridge: 18 ft2
BB 20" cartridge: 36 ft2
Applications
Home Drinking Water
Point of Use Filtration
Point of Use RO Systems
Whole-House Filtration
Point of Entry (POE) Filtration
RO Pretreatment
Commercial Applications
Industrial Applications
Municipal Water
Well Water
Sediment Removal
Dirt Removal
Sand Removal
Rust Removal
Features
Filter Media (S1 Series): Resin-Impregnated Cellulose
Filter Media (ECP Series): Cellulose Polyester
End Caps (Standard): Thermo-Setting Vinyl Plastisol
End Caps (Big Blue): Molded Polypropylene with Gaskets
Core: Polyproyplene
Temperature Rating (S1 Series): 40-145°F (4.4-62.8°C)
Temperature Rating (ECP Series): 40-125°F (4.4-51.7°C)
Available in 10" and 20" Standard Lengths, as well as10" and 20" Big Blue
Our Works
Featured
Products
WE ALSO PROVIDE PARTS ACCESSORIES, AMC CONTRACT AND FILTERS SERVICES AT YOUR HOME / INDUSTRIES / OFFICES ETC